Gymnastics Grips by Ginnasta USA are comfortable from day one, and the easiest grips to break in!
Not all gymnastics grips are created equally.

Ginnasta USA Gymnastics Grips are made with specially treated leather so they are COMPETITION READY in 30 minutes or less.  

Hear what our customers have to say about Ginnasta Gymnastics Grips:
Testimonials
These grips are the best out there. I have been involved in gymnastics for 20 years in the US and now for one year in Norway where I coach the national team...and I've seen a lot of different brands of grips. None come even close to what Ginnasta produces.

Ryan Roberts, Gymnastics Coach
Today, after receiving the grips we ordered only 48 hours ago, I took [my daughter] to the gym for open gym to "break in" her new grips. I dropped her off and I left on an errand. When I returned 45 minutes later she said, "okay, they are broken in." At first I thought she was teasing me, but in fact she stated she likes these grips better than the ones she currently uses.

Liz, Mom of Level 6 gymnast
I ordered these because they were recommended repeatedly when I searched for the best grips for gymnasts who dislike grips in general. They arrived very quickly and my daughter loved them from the first practice! No break in period and her skills improved immediately too.

Trish, Mom of gymnast
Ginnasta USA is a family run business located in beautiful Door County, Wisconsin.
MADE IN THE USA
All of our gymnastics grips are not only MADE IN THE USA but manufactured at our shop where we have full quality control.
No other gymnastics grips company can beat Ginnasta's Top Customer Service & Speedy Order Fulfillment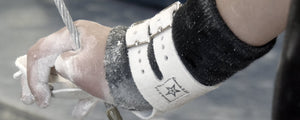 I just wanted to Thank You so very much not only for your amazing product but your top notch customer service!!! I called a while back seeking desperate help ... Thankfully your owner walked me through everything and agreed to overnight the grips!

Grateful gymnastics mom
Based on reviews I read online @ ChalkBucket and on this website, I decided to purchase these grips for my girls (training level 6/7 & level 9). I am amazed to say they were both able to do everything the first night they wore them - swinging giants into flyaways, etc... That has never happened with the English Bulldog or Reisport grips we purchased over the last several years. I am a believer!

Amy, Mom of gymnasts levels 6 - 9
I ordered these on Wednesday and had them in time for practice on Friday.

Cecilia, Mom of Level 6 gymnast
They came within 2 days and I was able to use them immediately!

Erin, Level 8 gymnast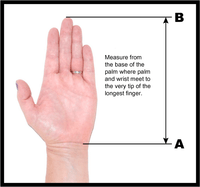 Foolproof Sizing Help
Our sizing charts and videos help you choose the perfect size grips for your gymnast. Our customers love our sizing for Ginnasta Gymnastics Grips.
Sizing Testimonials
Ah-MAZ-ING!!! These arrived very quickly & Portia was extremely helpful determining the perfect fit.

Sherri
..not only stylish but fit the hand just right ..

Gymgirl
The sizing is extremely accurate. I highly recommend these grips to anyone who hates having grips mess up how they swing!!!!!!!! 

Morgan
...they fit nice & tight...[and] when you spray them, they don't stretch out. [Ginnasta's] owner helped us greatly by measuring my wrists and recommending the proper size to buy.

Madison
The other thing I found so wonderful is the sizing was dead on.

Liz, gymnastics mom
shop@ginnasta-usa.com
Feel free to email Portia if you have any questions or concerns. She is in the shop every week day sewing and shipping your grips. We typically ship orders within 3 business days, and we ship worldwide.
We've been ordering Ginnasta Grips for several years and we LOVE THEM! Excellent product, Excellent Service and we really appreciate all the help we got from Portia!! Keep up the good work! :)

Jenn Zilka